HANOI TRAVEL GUIDE AND ITINERARY FOR 2 DAYS
Forty eight hours in Hanoi is enough time to spend in this city if you are visiting the country only for a week. In this article i will try to list all the things to do in Hanoi if you are in the city for only 2 days.
To describe Hanoi in one word – it's CRAZY!!! The combination of chaos and crowds can be pretty overwhelming (not a problem for us Indians tho (!) used to our own crowds and chaos!) There are zillions of motorbikes running around without any sense of traffic. Add street vendors, cyclos and people running around, and you have the recipe for perfect disaster. Yet, somehow it all works!
Related⤵
WHY HANOI?
Well first of all, it's the nearest gateway to Ha long city and the bay. So it makes sense to spend a couple days exploring this crazy place before searching for inner peace in Ha long bay!
And secondly, it's THE place to get a real dose of Vietnamese culture. I mean Ho chi minh city is there, but Hanoi has its own special charm.
THINGS TO DO IN HANOI
48 HOURS IN HANOI ITINERARY: TRAVEL GUIDE AND ITINERARY
DAY 1:
Chances are you are gonna land mid-morning. So, make your way to a hotel (preferably situated near Hoan Kiem lake/ Old Quarters) and check in. By the time you get refreshed and have lunch, it will be early afternoon.
Head to

"TEMPLE OF LITERATURE"

– a short taxi ride from the lake and have a look at this temple dedicated to Confucius and his 4 chief scholars. Even today, students come here to pray before their exams.
Looking for a place to stay? Check out our Hanoi accomodation here→Tripadvisor Review of Hanoi Emerald Waters Trendy Hotel
POINTS TO NOTE
ENTRANCE TICKET- 50,000 VND/PP; Audio guides available
TIMINGS: 8.30 -11.30 AM/ 13.30-16.30 PM (except Monday/national holidays)
DRESS CODE- Cover up your shoulders/Knees
FUN TIP: Check out the quirky charms sold within the temple premises, promising everything from exam luck to safe pregnancies!
On your way back, check out the

IMPERIAL CITADEL

(UNESCO site) from outside.
If you want a taste of museums, check out the

HOA LO PRISON

MUSEUM  and get a dose of Vietnamese propaganda about the American invasion.
POINTS TO NOTE
ENTRANCE TICKET: 30,000 VND/PP
TIMINGS: 8AM-5PM everyday
Make your way to Halong Bay. Get the complete guide here⤵
By this time, it will be evening. Make your way to the

FRENCH QUARTERS

and check out the architecture of famous sites such as the

CATHEDRAL AND OPERA HOUSE

. Have a taste of the famous bakery/dessert delicacies at one of the French influenced bakeries situated here.
Your last stop of the day is

THANG LONG WATER PUPPET THEATRE

 situated near the lake. Catch a show of this famous cultural attraction and check out the nearby shops for puppet souvenirs. Also take a look at the brightly lit lake at night and end with dinner at any of the restaurants near the lake/old quarters.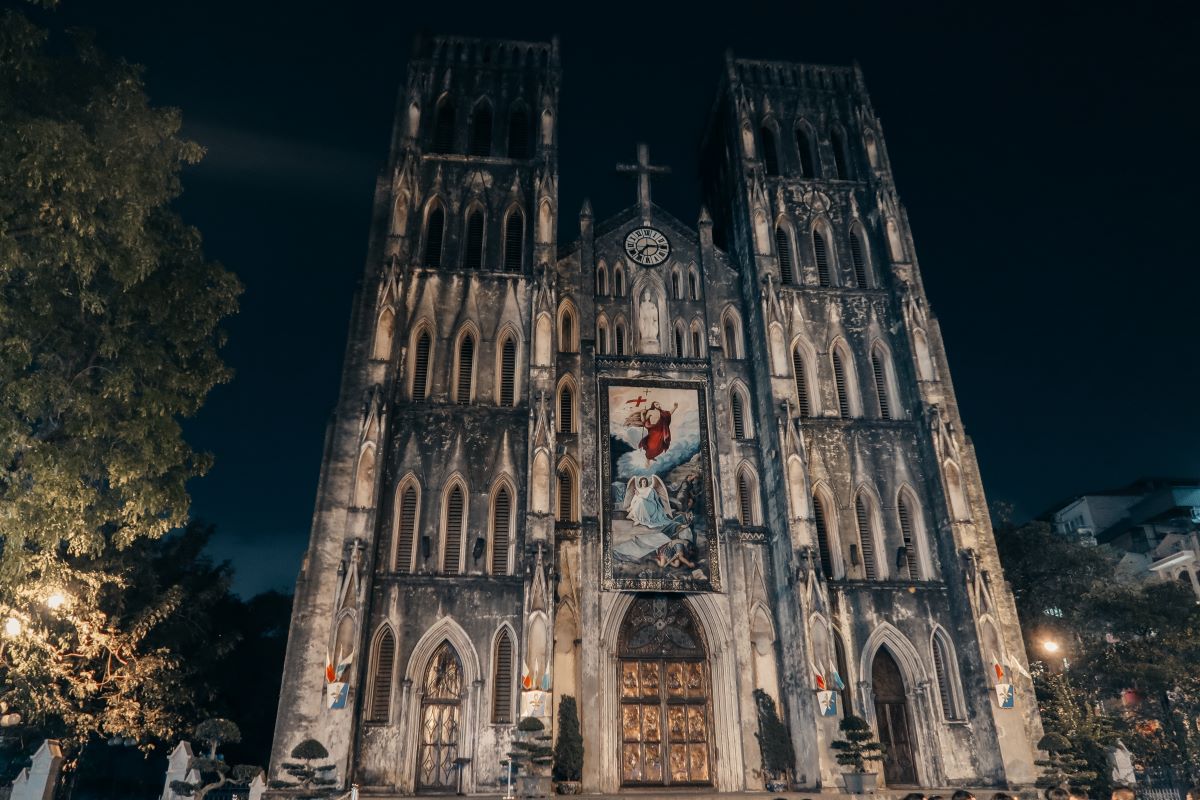 POINTS TO NOTE
SHOW TICKETS: 100,000 VND/PP
TIMINGS: Multiple shows daily;
Check out their site here→Thang Long Water Puppet Theatre
Visit the most cultural city of Vietnam. Read our Hoi An guide here⤵
DAY 2:
Wake up early and head over to

HOAN KIEM LAKE

, where dozens of groups start their morning with Tai chi/ Aerobics.
Check out the little Buddhist temple,

NGOC SON TEMPLE

, which lies on the northern end of the lake in its own little island and is connected to the shore by a scarlet bridge, one of the symbols of Hanoi. Make sure to click a picture of yourself atop this bridge!
POINTS TO NOTE
ENTRANCE TICKET: 30,000 VND/PP
TIMINGS: 8AM-5PM
From here, catch a taxi to

HO CHI MINH COMPLEX

 (approx 50,000 VND) which houses a museum, the One pillar pagoda, the House on Stilts( where Ho chi minh once used to live) as well as the mausoleum with his preserved body up for viewing( if you are into that kinda thing and harbor neutral feelings on the whole Communist issue)
POINTS TO NOTE
ENTRANCE FEE: Museum 40,000 VND/PP ; Stilt House 40,000 VND/pp; one pillar pagoda and mausoleum free
TIMINGS: Mausoleum: Monday closed/ Tuesday-Thursday( 7.30-10.30) and Sat/Sun (7.30-10.30) Museum: Monday and Friday closed/ Tues-Thurs and Sat-Sun (8-12 noon and 14-16.30)
FLASHPACKER TIPS: Long queues line up for the body viewing in the first hour. You can easily finish checking out a couple other stuff within the complex before lining up. Best to line up an hour before the end time, by which the crowds have usually thinned out.
After a dose of history, its time to get a taste of the

OLD QUARTERS

. Spend your afternoon walking around the different streets which are 1000 year old, each specialising in a particular item, be it silk, lacquer or shoes and do all your shopping here. Pop in at the

BACH MA TEMPLE

 for a look.
Spend an afternoon checking out the pretty shops in the Old quarters and get all your souvenir shopping done!

Check out the quirky shop which sells old

PROPAGANDA POSTERS

 for a few dollars each. They make an excellent gifting option for family and friends!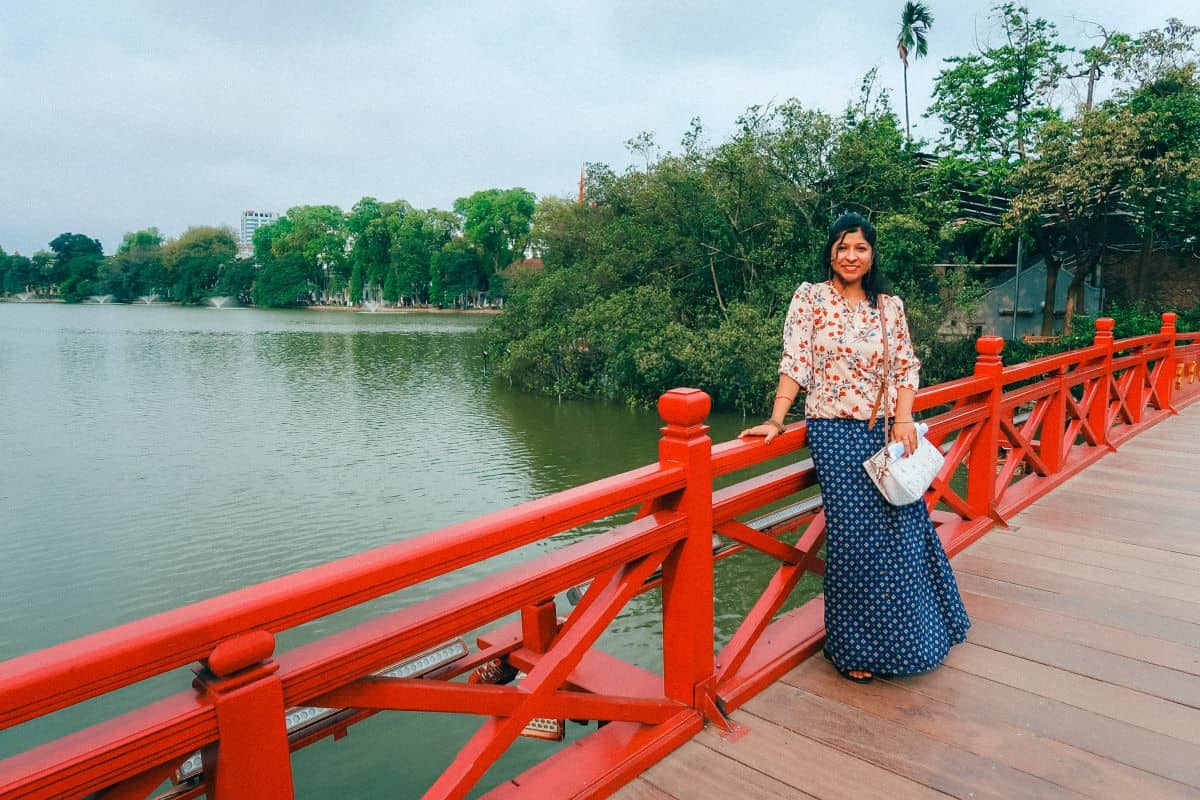 For Dinner, there are 2 options :
Have dinner at the old quarters itself. Make your way to

BEER STREET

 and one of the many barbeque places present.
Take a taxi to

TAY HO LAKE (WEST LAKE)

 which is the trendy upcoming district of the city, boasting a vibrant pub and restaurant scene.
We had a wonderful time in Hanoi and hope this small guide for 48 hours in Hanoi helps you in your travels.
Happy Planning!
Planning a combo Vietnam+Cambodia trip? Read our Siem Reap guide here⤵
LIKE THIS ARTICLE ? PIN IT !